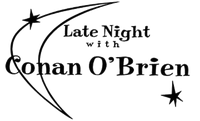 Late Night with Conan O'Brien is Conan O'Brien's last late-night talk show, which he had been hosting for 16 years, since September 13, 1993. The show was Conan's  most successful project, which aired on weekdays at 12:37 ET/11:37 CT, on NBC.
Late Night's house band was Max Weinberg's The Max Weinberg 7, who were often the subject of Conan's jokes. For the first 7 years of the show, Andy Richter served as Conan's sidekick, yet after he left the show, Weinberg became the unofficial sidekick.
Conan eventually left Late Night, and continued on to host The Tonight Show, starting on June 1st, 2009, after Jay Leno's departure. Jimmy Fallon, a former SNL player, took over Late Night the Monday following Conan's last show.
Before Conan stepped into the show and the host, Late Night's former host was David Letterman (hosted the show from 1982-1993), who left NBC after he was not offered the Tonight Show slot. Conan, then known as a writer for The Simpsons, was offered the job, and hosted an "audition show" featuring Jason Alexander and Mimi Rogers as his guests. Eventually, he won the title as the second Late Night host.
Beginning
Edit
Conan's first Late Night guest was John Goodman, with Drew Barrymore, Tony Randall and Radiohead as his follow-up guests. Conan's sidekick was Andy Richter, who was the main "receiver" of Conan's jokes, rather than the audience itself. His first contract with NBC had him sign for 13-weeks, mainly thanks for the low ratings of the show's first years. As time went on, Conan's confidence (and with it, the ratings) kept growing, promoting him to be one of the leading figures in the late-night zone. After seven years on the show, sidekick Andy Richter decided to leave his spot on Late Night in search for acting opportunities.