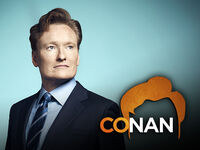 ConanWiki is a collaborative encyclopedia for the comedian, writer and TV host Conan O'Brien. Conan hosted Late Night with Conan O'Brien for 16 years, and was the heir to The Tonight Show for June 1, 2009 through January 22, 2010. He currently is the host of CONAN on TBS.
This wiki-based website, which currently has 116 articles, allows anyone to contribute and expand the contents to make this wiki as trustworthy as the other great wikis.

Help us GROW!
Create an article on this wiki:
Create and expand existing articles.
Add images and design this wiki.
Publicize this wiki in the Conan O'Brien communities.
Ad blocker interference detected!
Wikia is a free-to-use site that makes money from advertising. We have a modified experience for viewers using ad blockers

Wikia is not accessible if you've made further modifications. Remove the custom ad blocker rule(s) and the page will load as expected.