New Characters for XXXX (year) was a recurring sketch on Late Night with Conan O'Brien where the writing staff would try out brand new character ideas in hopes that they might become recurring. The sketch was later nenamed just to "Late Night New Characters".
[[Episode 01/03/2001 Lorraine Bracco / Benicio Del Toro / Andy Blitz|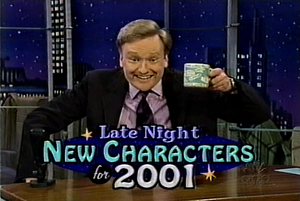 New Characters for 2001 (01/03/2001)
]]:
New Characters for 2001 (02/06/2001):
Ad blocker interference detected!
Wikia is a free-to-use site that makes money from advertising. We have a modified experience for viewers using ad blockers

Wikia is not accessible if you've made further modifications. Remove the custom ad blocker rule(s) and the page will load as expected.