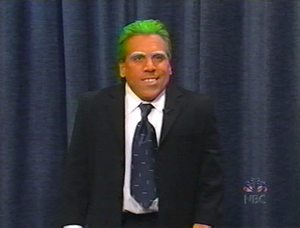 Steve, aka. "The Only Oompa Loompa Who Will Not Work for Wonka"
is a 
Late Night with Conan O'Brien
 character who debuted on September 25th, 2001 in the sketch 
New Fall Characters
.
Steve: How ya doin', Conan?
Conan: Uh, fine. Thanks, Oompa Loompa.
Steve: Please, call me Steve.
Conan: Ok, Steve. Uh, tell me, why won't you work for Willy Wonka?
Steve: Are you kidding? Singing those stupid songs all day? It's beneath me, it's degrading. 
Conan: Ok, alright, that's fair. Well, what do you do?
Steve: I sell suits at the "Men's Warehouse". I have my dignity.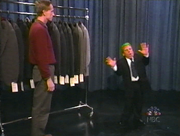 Customer: Excuse me. Can you help me? [music plays]
Steve: [sings] Oompa Loompa goopa-dee-doo, I've got a nice new suit here for you. Oompa Loompa deekity-dee, I'll even throw in some sweaters for free.
Ad blocker interference detected!
Wikia is a free-to-use site that makes money from advertising. We have a modified experience for viewers using ad blockers

Wikia is not accessible if you've made further modifications. Remove the custom ad blocker rule(s) and the page will load as expected.