The Copywriter's Cage Match
is a sketch that appeared on Late Night with Conan O'Brien on
January 17th, 2003
. 
The segment begins with Conan endorsing "Celestial Seasonings Tension Tamer" tea and reads the poetic description on the back of the box. An audience member (Jon Glaser) speaks up and proudly mentions that he is the writer of said description. Another tea copyrighter (Brian McCann) who works for competitor Bigelow teas, butts in and proceeds to give his own detailed description for his product. The two men quickly get into an argument, and finally Conan decides that the only way to settle this is for them to battle in a cage match.
The curtain pulls back, revealing a large cage on the stage, which the two copywriters immediately run down to to get inside of. Conan asks "Ok, do you guys know how this works?". The Celestial Seasonings writer answers "Sure do!" while his opponent replies "No..." Conan proceeds to explain that it is a fight to the death which will determine who is the best tea copywriter. The match begins and remains one sided in the Celestial Seasoning's favor until the conclusion, where he gives another poetic description as his "victory speech".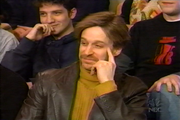 Ad blocker interference detected!
Wikia is a free-to-use site that makes money from advertising. We have a modified experience for viewers using ad blockers

Wikia is not accessible if you've made further modifications. Remove the custom ad blocker rule(s) and the page will load as expected.