The Dark One
is a 
Late Night with Conan O'Brien
 character/sketch who first appeared on
January 16, 1999
. He is a strange man who appears in the audience, applauding the success that Conan has had over the past five years. He goes onto remind Conan about a certain bargain the two of them had made, and that good things often come "at a price". The host struggles to remember the man and what he speaks of. A flashback transitions, showing a past meeting between the two at the crossroads. It is revealed that The Dark One was trying to sell Conan a small girl's bike, nicknamed "Penelope", which he cherishes dearly. Scorned that Conan refused the offer, and that he later neglected to call him, The Dark One pitifully rides his bike out of the studio.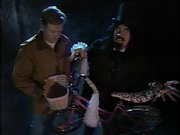 Afterwards, Conan is relieved to know that it was just a silly matter over a bicycle, and that he was worried that he had sold his eternal soul to the Devil. At that moment, Andy Richter's skin turns red, and in a deep, demonic voice, he responds "Oh, but you did, Conan! You did!" and then proceeds to laugh malevolently.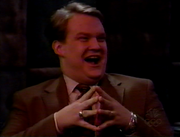 Ad blocker interference detected!
Wikia is a free-to-use site that makes money from advertising. We have a modified experience for viewers using ad blockers

Wikia is not accessible if you've made further modifications. Remove the custom ad blocker rule(s) and the page will load as expected.