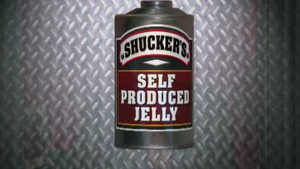 The Shucker's Jelly Fan Birthday Segment
was a sketch on
Late Night with Conan O'Brien
which first appeared on
September 4th, 2008
. 
Joel Godard celebrates the birthdays of several Late Night fans, which consist of three men who are each blind and deaf, and Ashley Michaels, a one-year-old girl who "screams just a little bit less" when Conan's show comes on. The event is sponsored by Joel's neighbor, Linda Shucker, whose body naturally makes the Jelly that she sells.
Ad blocker interference detected!
Wikia is a free-to-use site that makes money from advertising. We have a modified experience for viewers using ad blockers

Wikia is not accessible if you've made further modifications. Remove the custom ad blocker rule(s) and the page will load as expected.