The Tonight Show set is set on Stage 1 of the Universal Studios Lot in Universal City, downtown Los Angeles, California. The brand new set was built especially for Conan O'Brien's The Tonight Show with Conan O'Brien, in the exact place where the 1961 "The Jack Benny Show" was shot.
Audience seats
Edit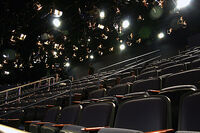 The audience seats resemble the ones used on Late Night and The Tonight Show Starring Johnny Carson. Unlike The Tonight Show with Jay Leno, where the audience members were only a few meters away from the central stage, the seats in the set are located quite far back, though they are accessible to reach (as seen in Green Day's performance).


Conan's desk area
Edit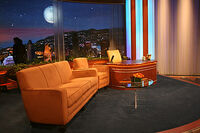 Unlike his Late Night desk, which was always the center of comedy due to its small size and Conan's long feet, the new desk appears to be bigger than the previous one. Conan's well-known microphone, one which Conan always claimed to be fake, is still located on the left side of the desk, while Conan's coffee mug and the mug of Dwight Eisenhower's head Conan uses as a pencil holder are still present on the right side.
Also, the round table in front of the guests' couches is now made of glass, unlike the Late Night table, which was made out of wood, and was broken during one of the final Late Night tapings by Conan. The couches now appear in an organ-brown color, unlike the blue couches featured during Late Night.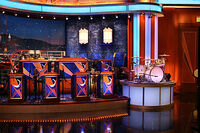 The current band stands for the Max Weinberg and The Tonight Show Band bare similarities to the band stands used for the Max Weinberg 7 during Late Night. Both designs still bare the moon icon, while Max Weinberg, the band's leading player, still has his own platform. An extra stand was brought in, due to James Wormworth addition to the band.
During one of the final Late Night shows, Conan smashed LaBamba's stand, and gave it to an audience member.