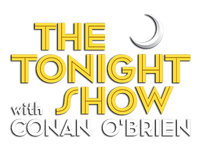 The Tonight Show with Conan O'Brien is Conan O'Brien's second late-night talk show, following Late Night with Conan O'Brien. Conan took over The Tonight Show on June 1, 2009, after his successor for 16 years, Jay Leno, finished his 17-years hosting of the show. After a short seven months as host, NBC attempted to move the show's time slot to fit a half-hour version of The Jay Leno Show, but Conan refused to continue hosting in the new slot and left NBC. Jay Leno was contractually obliged to resume hosting duties.
As the opening credits roll, Andy Richter announces the guests featured on the show, along with Max Weinberg and The Tonight Show Band and himself. As he announces Conan's name, Conan walks out, waves at the audience, waves at Andy, and after a close-up on Max, Conan jumps in his place and points towards the band. As soon as the audience start shouting, Conan attempts to calm them down, often doing the String Dance or any other motions. Once the audience calms down, Conan preform his "Conologue", during which he reports recent news around the world. On some occasions, Conan presents a segment filmed outdoors.
Conan then shares with the audience his upcoming guests, bowing as a manner of thanking them, and right before cutting for a commercial break, Conan presents the Band, which starts playing.
During Act II, Conan preforms one of his sketches, or interacts with one of the characters.
The first guest is introduced, and the first half of the interview is included in this act.
The second half of the first guest's interview, often ends with a clip of the show\movie they are promoting.
The second guest's interview takes place. In case there isn't a second guest, a comedy sketch will take place during Act V.
Conan introduces the musical guest, presenting their upcoming album. After the performance, Conan personally thanks the musical guest(s), somtimes interviews them for a brief moment, then concludes the show and invites the audience to stay tuned for Jimmy Fallon's Late Night.
On some occasions, a stand-up comedian would preform a short segment instead of a musical preformence.