Tom Hanks is an Academy-award winning actor and the second guest of The Tonight Show with Conan O'Brien.
Hanks is a well-known, two times Academy-award winner actor, also known as a director and producer. Hanks gained fame in the comedy movie Big, and went on to star in classic films such as Turner & Hooch, Sleepless in Seattle, Philadelphia (for which he won his first Academy-award) and many others. He also received an Academy-award for Best Actor in the smash-hit Forrest Gump, and went on to voice the character of Woodie in the CGI-animated movie Toy Story. Over the years, Hanks appeared in other well-known productions, namely Apollo 13, Saving Private Ryan, Cast Away and The Da Vinci Code.
The Tonight Show
Edit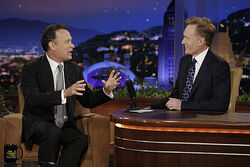 June 2nd, 2009
Edit
Promoted his new movie, Angels & Demons.

Demonstrated Ron Howard's work ethics through impressions.

Hinted about a musical version of his well-known movie, Turner & Hooch.
Encouraged the audience to call Conan "CoCo."
Spoke about his loyalty to In-N-Out Burger
Talked about his fascination with meteors, leading Conan to suggest showing meteors on the screen of Los Angeles skyline behind him. Instead, a big meteor ascended from the ceiling, hitting Hanks and knocking him backwards.